Maldivene / Det Indiske Hav
COMO COCOA ISLAND – DEFINISJONEN PÅ PERSONLIG SERVICE, AVDEMPET LUKSUS OG VELVÆRE
På COMO Cocoa Island i Maldiverne bor du på et av Maldivenes absolutt beste hoteller, der personlig service, skyhøy kvalitet og fantastisk snorkling ved det fargerike husrev er hverdag.
Drømmer du om å bo i en villa på påler i vannet så bør Cocoa Island være ditt neste stopp, for dette er signaturen og den eneste eksklusive mulighet som finnes på hotellet. Det første du ser når du åpner øynene er den fantastiske havutsikten og bare få skritt fra senga kan du stupe ut i det glitrende vannet for en lun morgendukkert fra din private veranda.
Dette er drømmen, som blir virkelighet. På ekte COMO-vis så er avslappende luksus og velvære i fokus der hverdagen står på rolige dager i vannkanten, Spa-opplevelser i verdensklasse, nydelige sandbanker, og snorkling i en av Maldivenes vakreste laguner, hvor de forbløffende lyseblå nyanser synes å fortsette i det uendelige.
Gå en tur i det silkemyke sandet, dykk med haier, manta rays, eagle rays og havskilpadder eller nyt en god bok under den evige solen. Atmosfæren på Cocoa Island er en opplevelse i seg selv, og en av mange grunner til at dette er blant våre favoritthoteller i Maldivene.
Wendie Pedersen
CO-FOUNDER & TRAVEL DESIGNER
Personlig veiledning
Har du behov for hjelp til å finne den helt riktige reisen? Kontakt oss på
Motta tilbud
De mest populære fasiliteter
Dykking
Butler service
Velegnet til par
Privat basseng
Highlights (6)
Omkranset av en av Maldivenes vakreste turkisblå laguner
Boutique Resort med bare 33 Water Villaer
COMO Shambhala Retreat, som er dedikert til å forny kropp og sjel
COMO Shambhala Kitchen - et kulinarisk og næringsmessig helt unikt konsept
Fantastisk husrev - både fargerikt og livlig
Enkelte villaer er designet som en tradisjonell maldivisk båt - En Dhoni
Se mer
LIVET PÅ COCOA ISLAND
Como Cocoa Island er en av våre absolutte favoritter. Et resort som lett har funnet veien til våre lidenskapelige reisehjerter. Her vil du oppleve avslappende, maldivisk barfotluksus, der tiden går til å nyte himmelske spabehandlinger, snorkling direkte fra stranden, yoga og Pilates, og lange turer langs den ikoniske Sandbanken.
COMO SHAMBHALA
COMO Shambhala Spa er COMOs ikoniske wellness retreat, som er dedikert til å forny både kropp og sjel med sitt fokus på harmoni i kropp, hjerte og sinn.
Her kan dere unne dere skreddersydde spabehandlinger, primært basert på asiatiske prinsipper og fritt benytte dere av Maldvenes eneste hydroterapibasseng.
Start og avslutt dagen med yoga og meditasjon som dere inviteres til en til to ganger daglig i resortets pavilion av øyas egen yogi.
DE SMÅ DETALJENE
Det mangler ikke luksuriøse resorts på Maldivene, men Como Cocoa Island har likevel klart å toppe det absolutt beste. Men hvorfor er dette?
Hva er det som gjør COMO Cocoa Island så eventyrlig? Det er som alle gode harmoniske ting forenes her og forskjellen er å finne i de helt små detaljene som tilpassen gjør det til en ekstraordinær opplevelse å oppholde seg på Cocoa Island. Familien Ong som står bak COMO Hotels & Resorts, har et mål om å forvandle gjestenes oppfattelse av hva en reise kan være. Her er ingen detaljeroverlatt til tilfeldighetene, der alle gjester behandles individuelt og servicen er personlig og genuin. Fokuset er på den totalt opplevelsen der du aldri føler at du mangler noe.
EVENTYR OVER OG UNDER HAVETS OVERFLADE
COMO Cocoa Island ligger i hjertet av Maldivenes kanskje mest spektakulære lagune. Her stråler det virkelig av turkise blå nyanser. Nyt den fra solsengen, fra turen langs den endeløse kritthvite sandbanken som forsvinner ut i horisonten eller fraden myke solsengen i din villa.
Det er ikke bare på overflaten at lagunen imponerer. Hele veien rundt øya er det fantastiske husrev, som venter på å bli utforsket. Husrevet her er ett av de få der vi tydelig ser at at fargene er godt på vei tilbake, etter El nino fenomenet for noen år tilbake. Marinelivet er upåklagelig og hver gang vi besøker Cocoa Island er vi alltid heldig å både oppleve havskilpadder, rokker, reef sharks og en hel verden av fargerike fisker. Det er og blir et av de mest imponerende husrev i Maldivene.
RESTAURANTER & BARER
1 RESTAURANT OG 1 BAR
COMO Cocoa Island har en fantastisk à la carte-restaurant,
samt én bar – begge av sublim kvalitet.
UFAA RESTAURANT
Restauranten Ufaa hedrer naturen og vil by på en storslått gastronomisk opplevelse for selv den meste kresne. Det er en fantastisk a la carte restaurant, med fokus på internasjonal, maldivisk/indisk og middelhavsinspirert mat. For ekstra sunne måltider kan du også velge fra COMO Shambhala-menyen.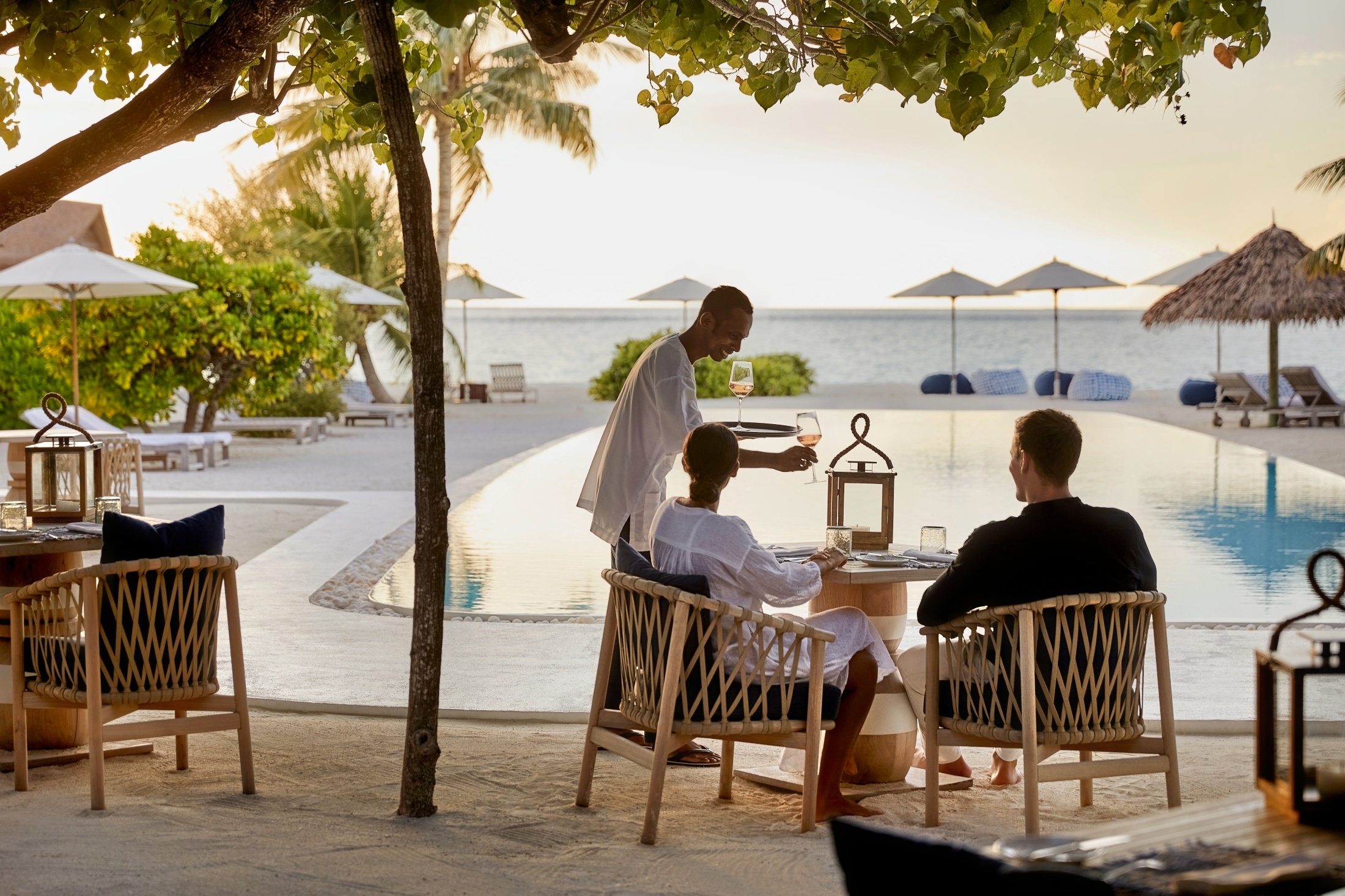 FARU BAR
Faru Bar er en elegant »foot-in-the-sand» bar, som ligger side om side med Ufaa Restaurant og Cocoas Infinity Pool. Her kan du nyte nyskapende og smakfulle cocktailer og mocktails, samt eksklusive viner og snacks – til lyden av rolige loungebeats.
Vi er spesielt glad i COMO's One Bedroom Water Villa w. Pool.
Av de mindre villaene er COMOs Dhoni Water Villa utrolig sjarmerende,
mens Loft Water Villa gir dere ekstragod plass.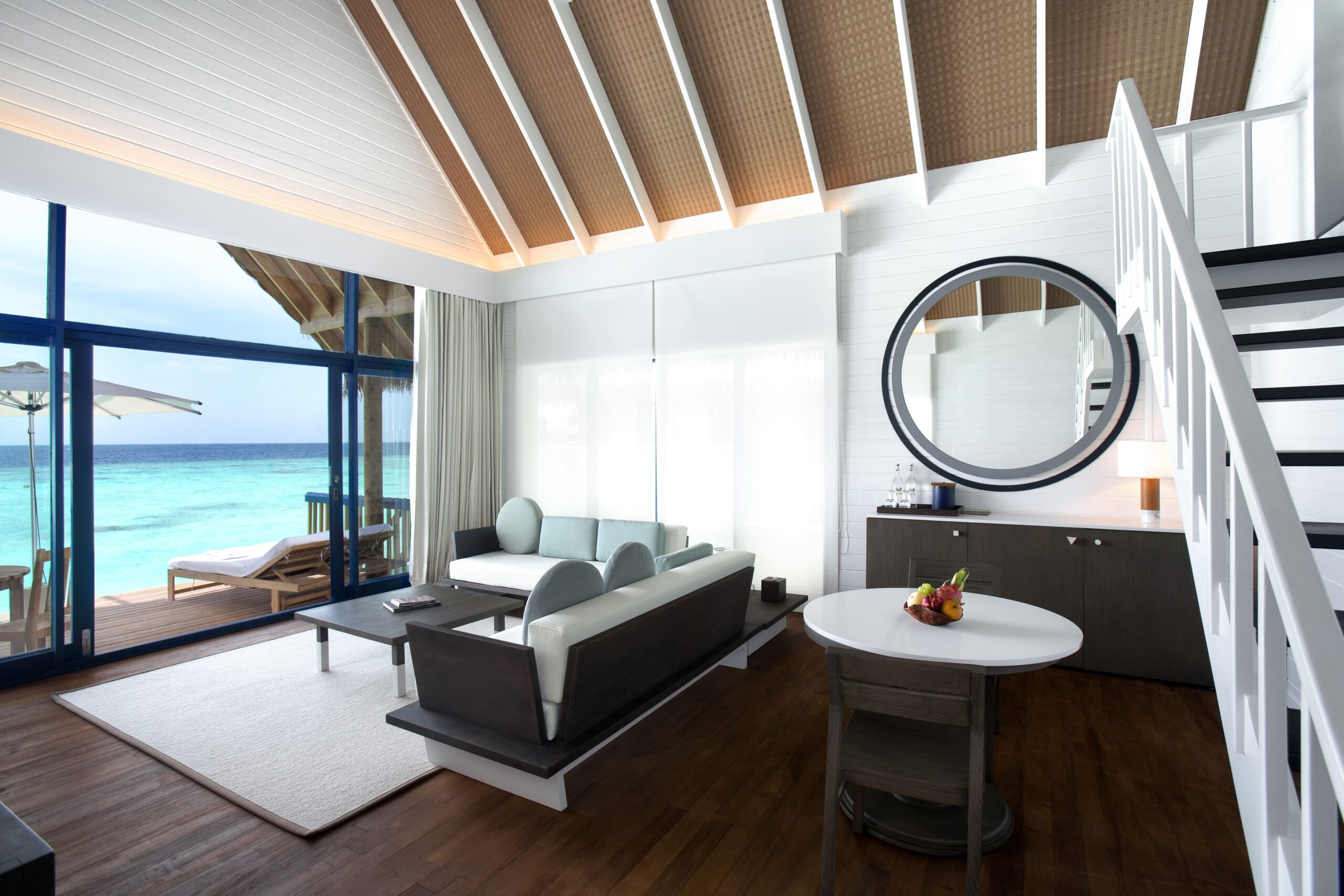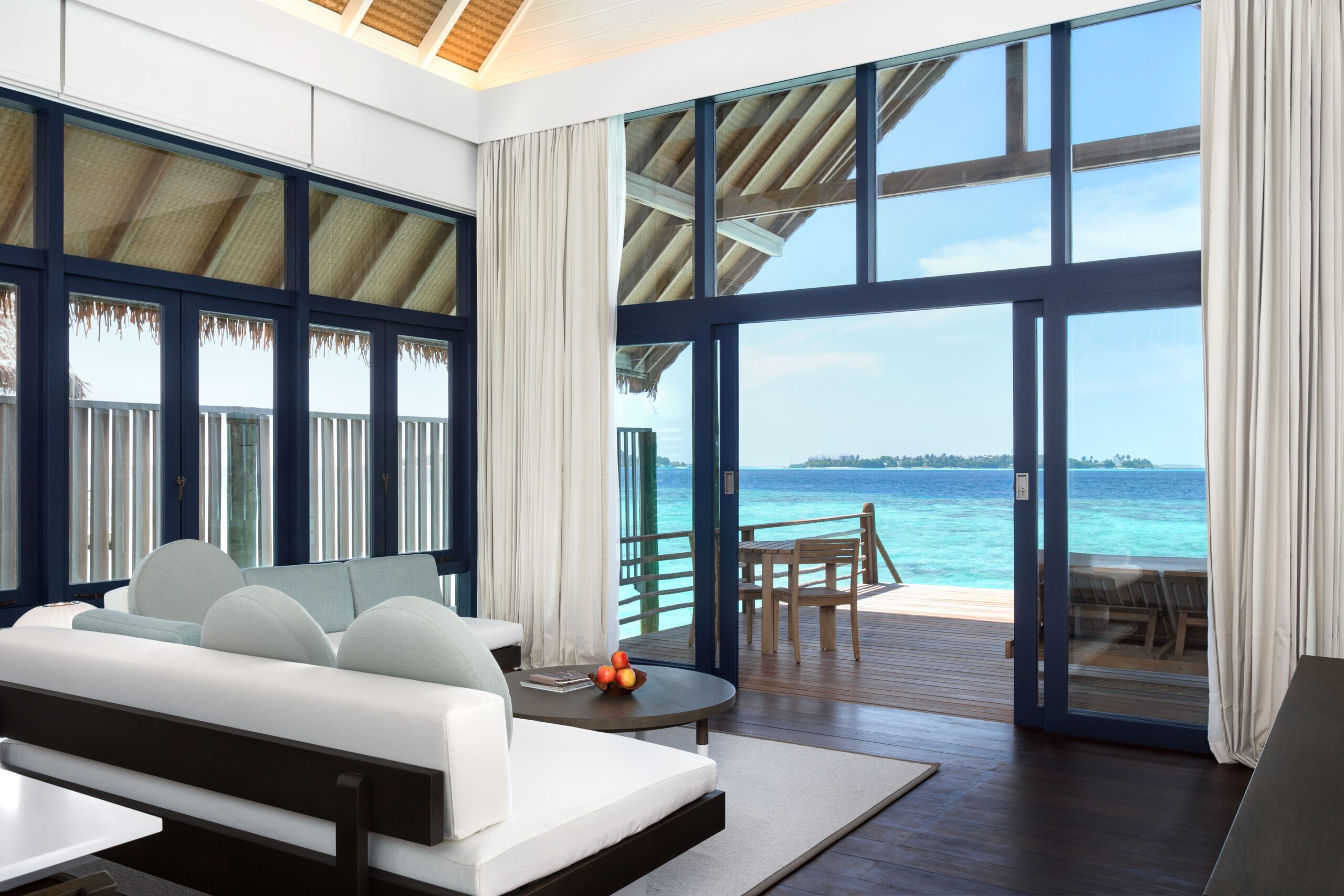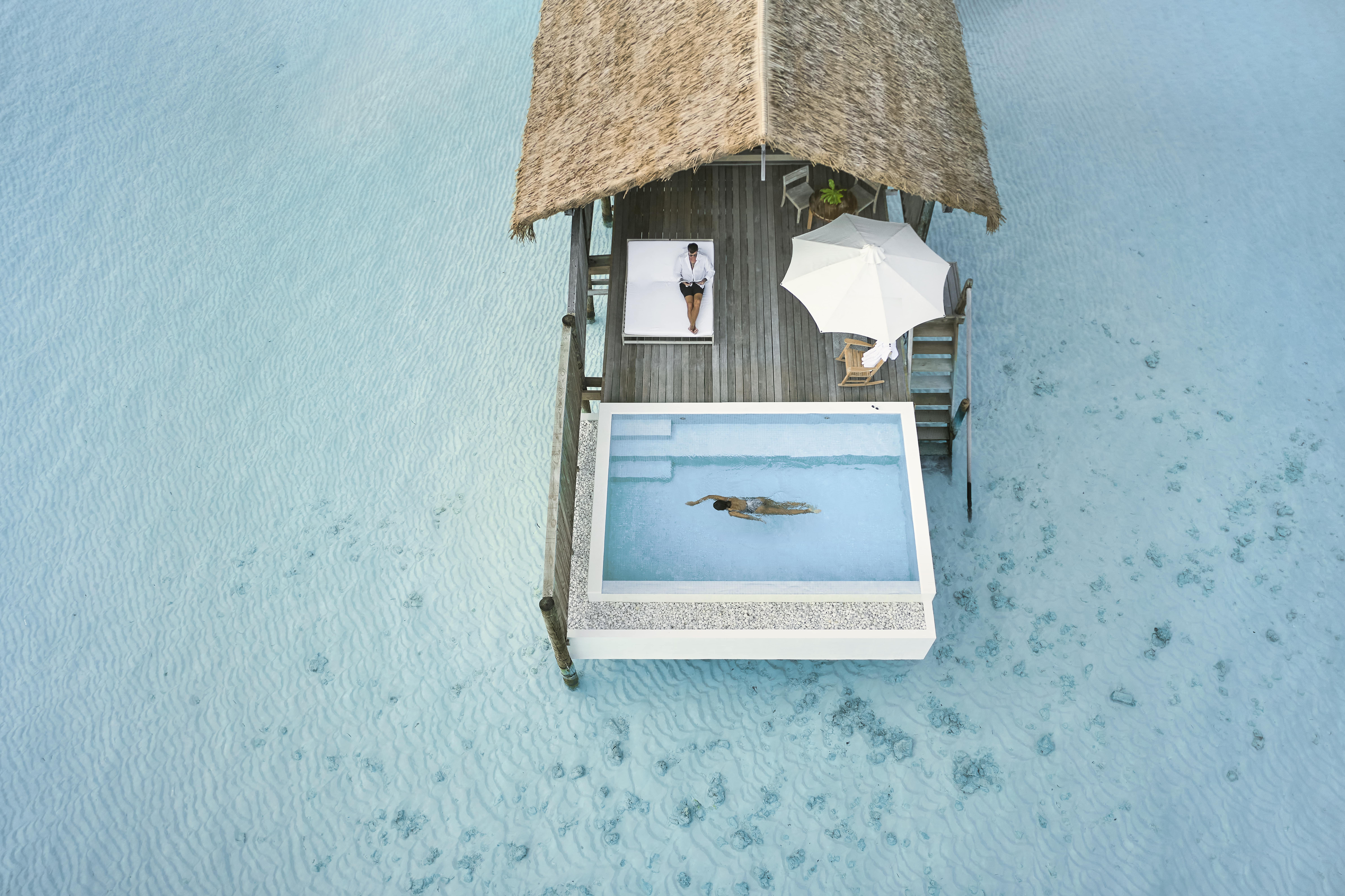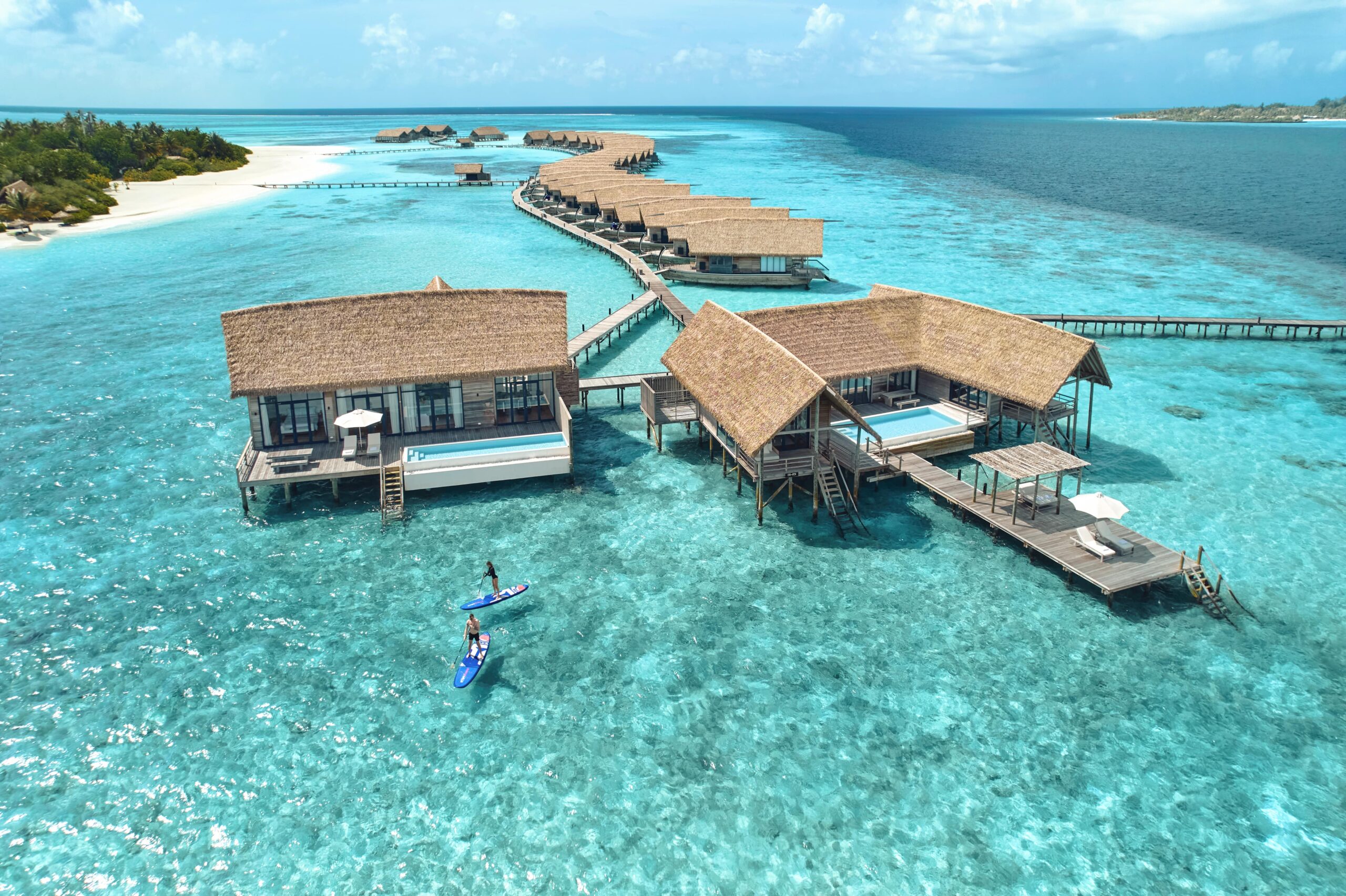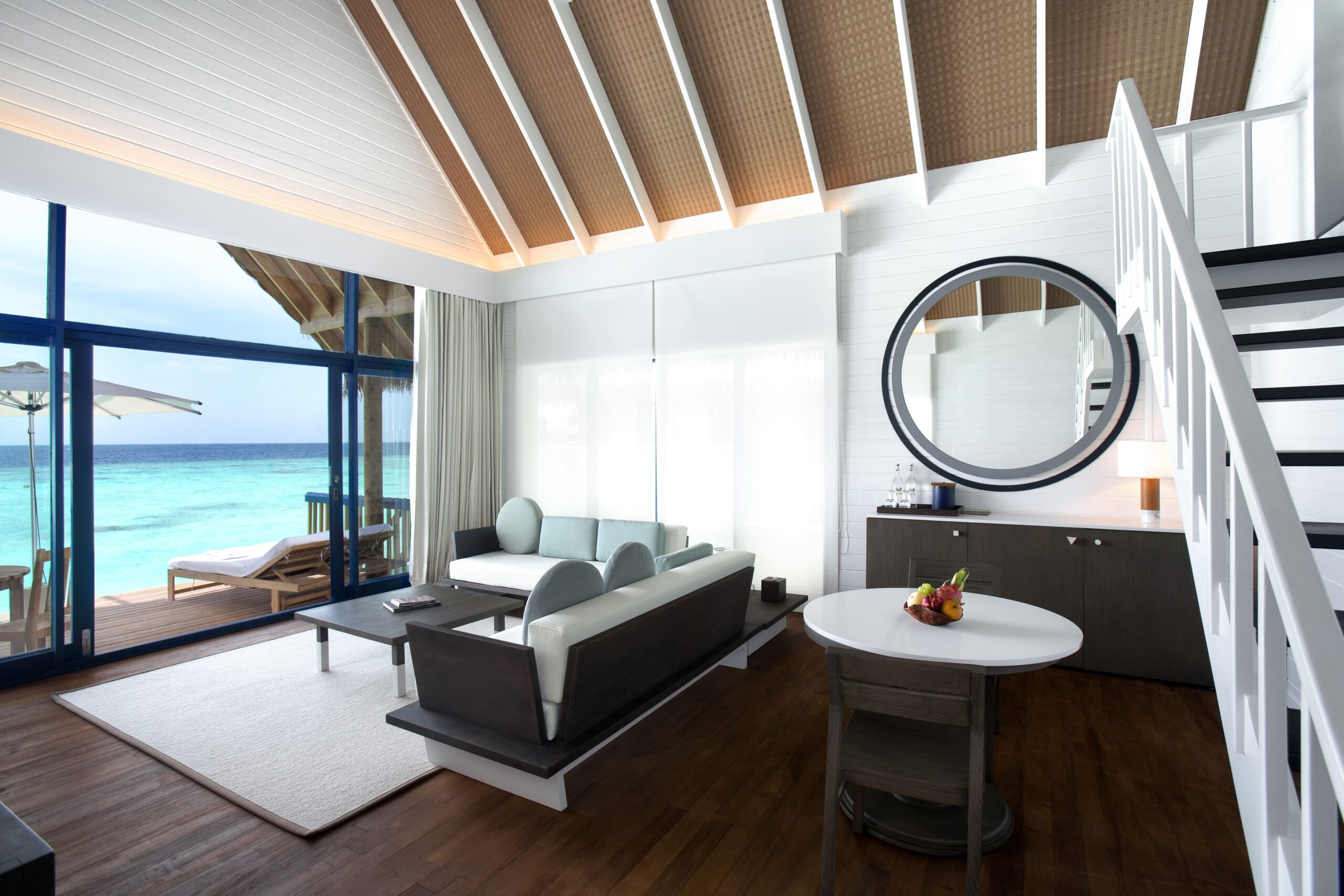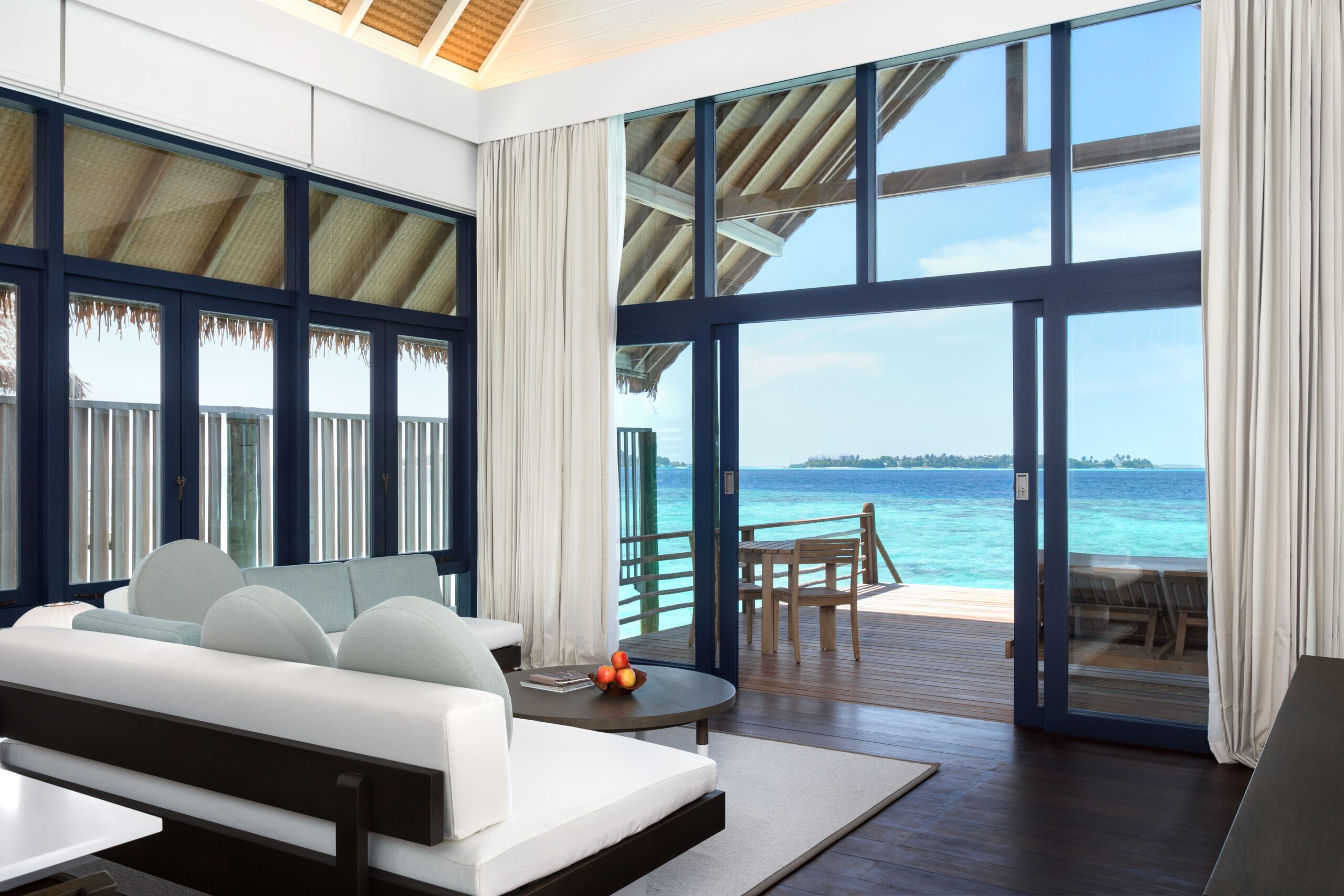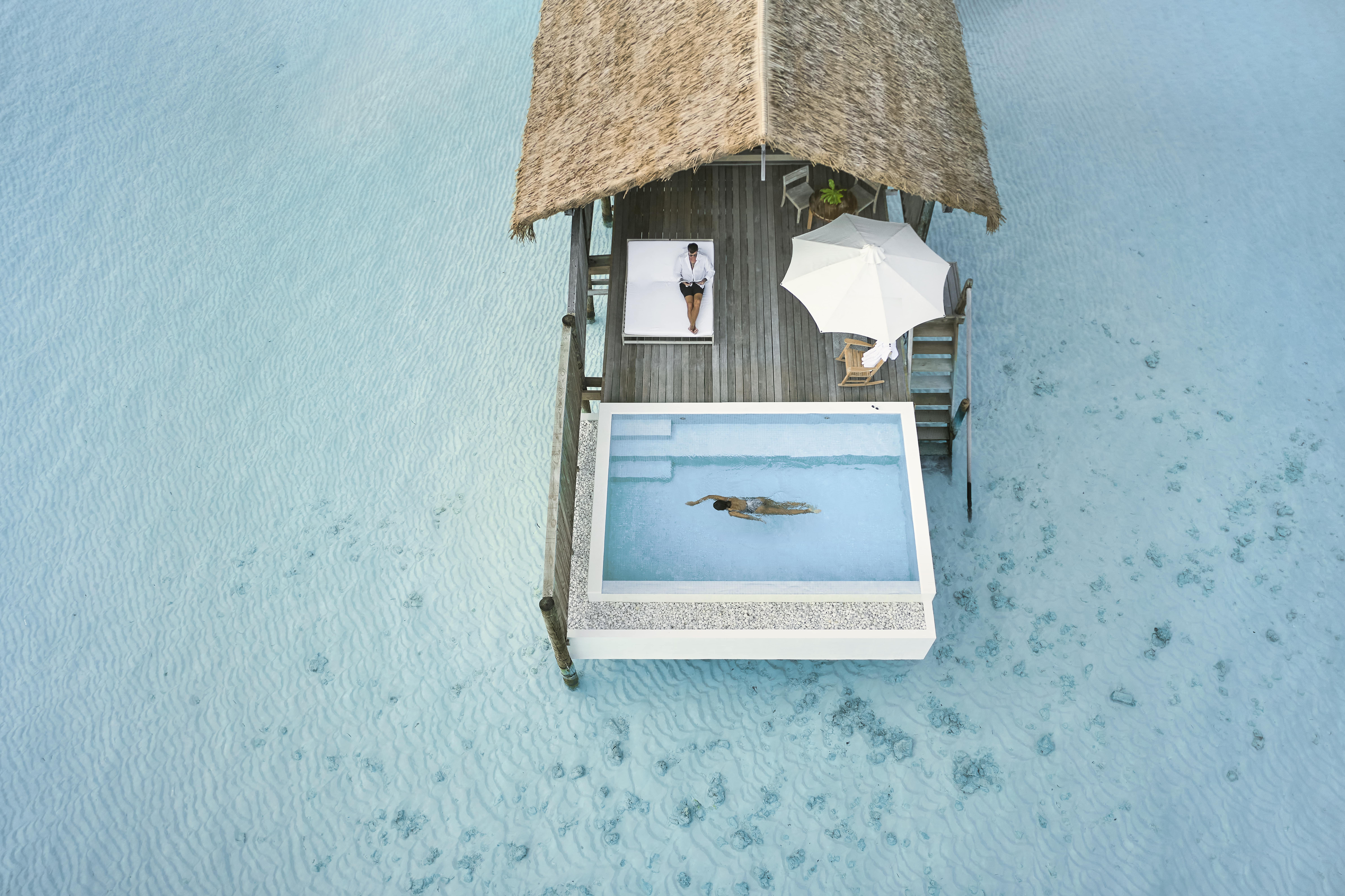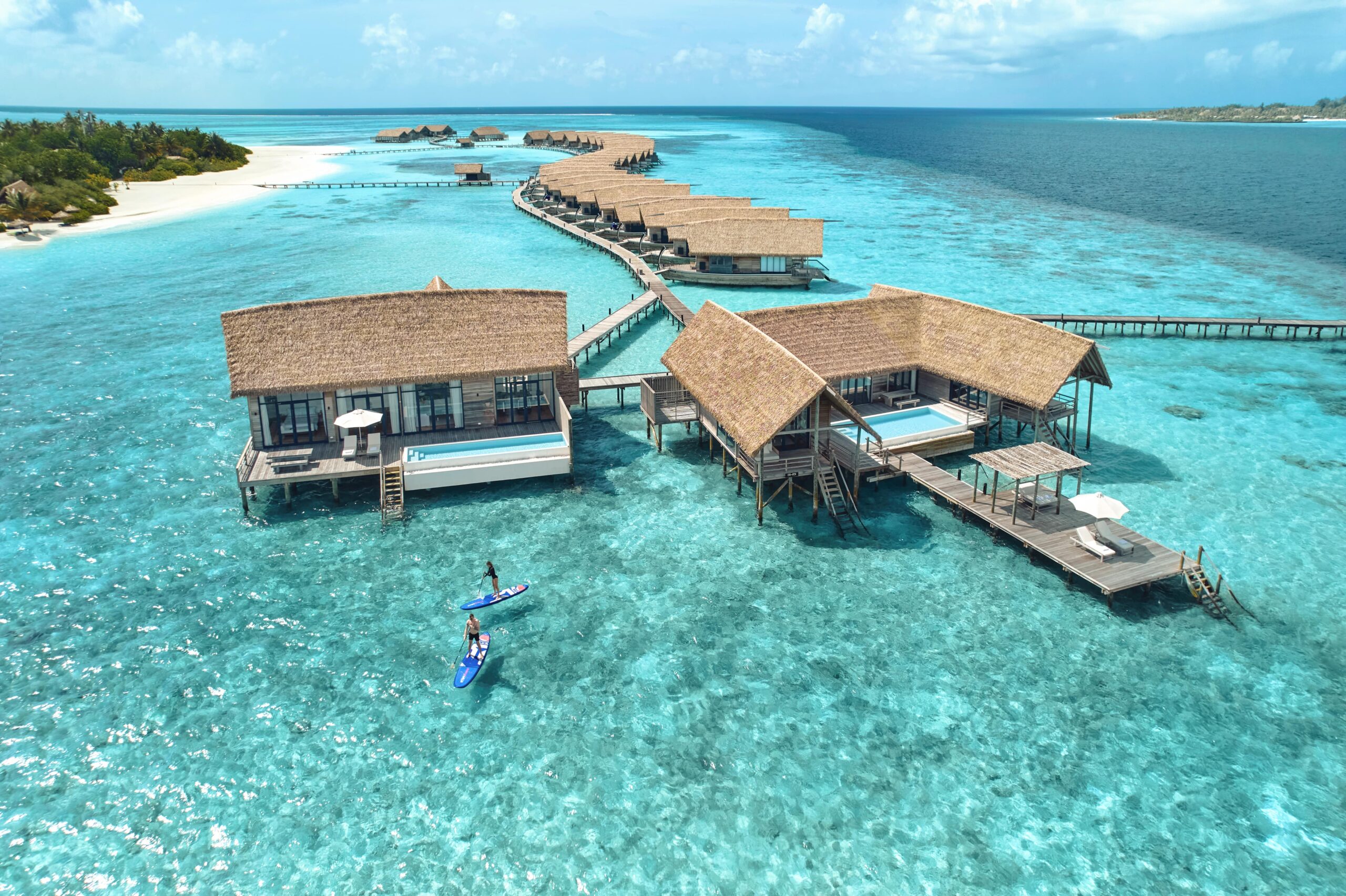 DHONI WATER VILLA
8 villaer / 75 m2
Disse sjarmerende villaene, utformet som en tradisjonell maldivisk dhoni-båt, ligger over lagunen, vendt mot husrevet, og består av et vakkert bad, kombinert stue og soverom med havvendt seng, samt en terrasse med solsenger og sitteplasser. Terrassen har naturligvis en trapp som tar deg rett ned i Det Indiske hav. Denne villaen har plass til 2 voksne.
DHONI LOFT WATER VILLA
9 villaer / 110 m2
Opptil 3 voksne og 1 barn under 12 år
Dhoni Loft Water Villa er også formet som en maldivisk dhoni og har samme karakteristiske eksteriør design. Innvendig er soverommet flyttet opp på den flotte hemsen der det også er et baderom, mens stuen under er større og fører direkte ut til den fantastiske terrassen, hvor de komfortable solsengene venter.
LOFT WATER VILLA
10 villaer / 123 m2
Villaen har plass til 3 voksne og 1 barn under 12 år.
Loft Water Villa er en av de mest populære villakategoriene, der sengen har utsikt til havet fra den romslige hemsen, en stor stue med direkte utgang til den ekstra store terrassen med daybed og den vakreste havutsikten du kan forestille deg. I forlengelse av badet er det et ekstra uteområde med utedusj.
ONE BEDROOM WATER VILLA WITH POOL
4 villaer / 125 m2
Opptil 3 voksne og 1 barn under 12 år kan bo i disse villaene.
Det er bare fire av disse spektakulære One Bedroom Water Villa w. Pool, som ligger helt for enden av jettyen. En åpen villa med stor stue, som fører deg vidre ut til den enorme terrassen der det himmelske private bassenget også ligger. I motsatt ende av villaen finner du badet, der det også er tilgang til en fantastisk utedusj.
TWO-BEDROOM COMO SUNRISE VILLA WITH POOL
1 villa / 300 m2
Her kan det bo opptil 5 voksne eller 4 voksne og 2 barn under 12 år.
Gigantisk villa med "grand entrance" som fører deg direkte inn i den store stuen med elegante sofaer og vakkert dekor. Villaen består av to separate avdelinger, hver med sitt eget soverom, bad, utendørs dusj og terrasse med trapp ned i det forførende Indiske hav. I hjertet av villaen ligger det store private bassenget. Hvis du går videre til terrassen, vil du bli ført til et bredt, privat platå med daybed, solsenger og trapp ned I lagunen.
THREE-BEDROOM COMO SUNSET VILLA WITH POOL
1 villa / 590 m2
Her kan dere bo opptil 8 voksne og 1 barn under 12 år, eller 6 voksne og 3 barn under 12 år.
Samme fortryllende villa som Two-Bedroom COMO Sunrise Villa w. Pool, men denne villaen ligger mot solnedgangen og har en enorm 1-Bedroom Villa i tillegg, som den er forbundet med via en kort spasertur langs brygga. Tilsammen gir det 590 kvadratmeter ren luksus. Her får du bl.a privat treningsrom, store private bassenger, store terrasser, 3 soverom og bad og guddommelig utsikt uansett hvor du er. Perfekt til storfamilien.
MALDIVIA skræddersyr
DIN FERIE TIL COMO COCOA ISLAND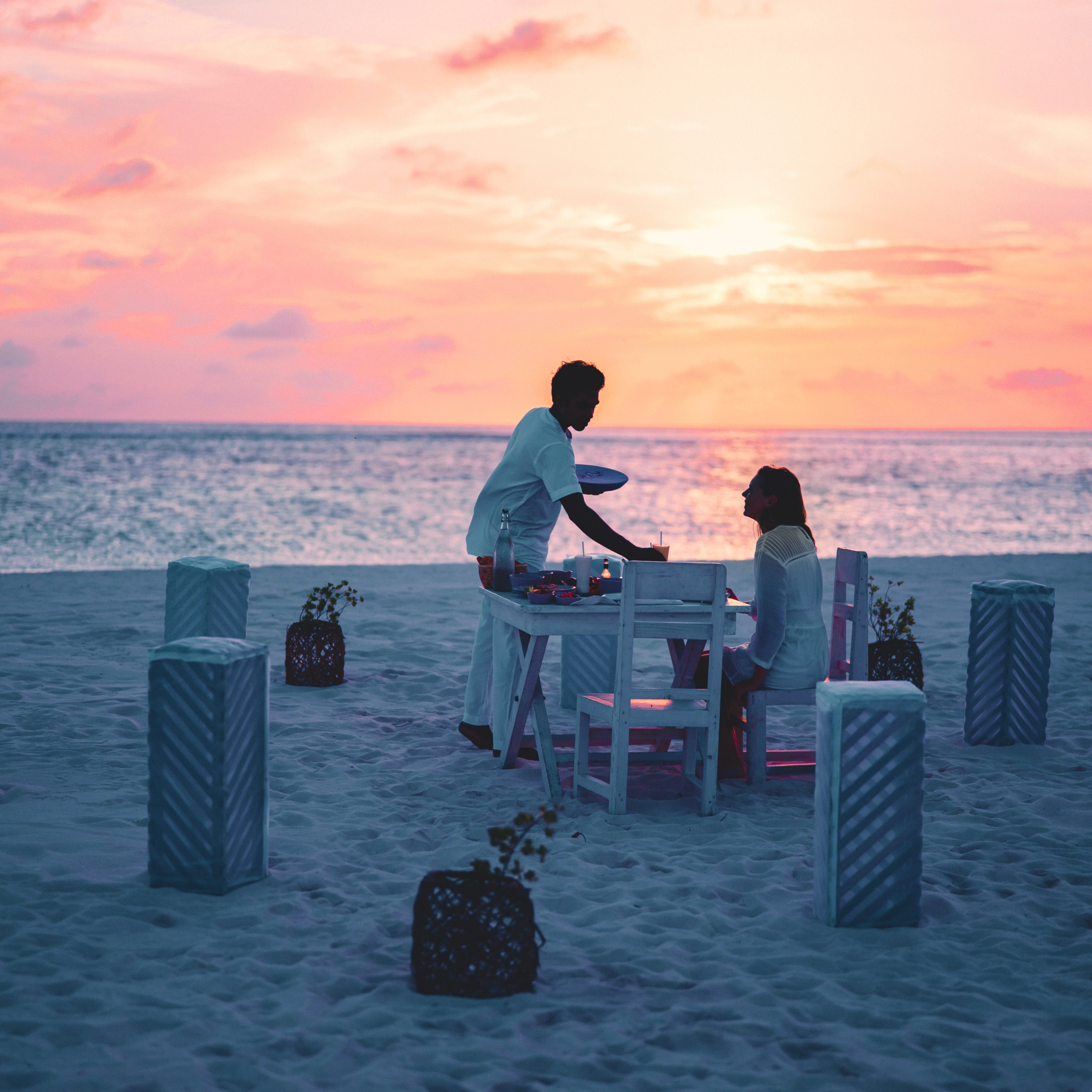 COMO Cocoa Island er et av mine absolutte favoritt resort på Maldivene.
Jeg prøver alltid å legge inn noen dager her på slutten så jeg virkelig kan bli skjemt bort med kulinariske opplevelser, nedtonet luksus, skikkelig god snorkelig, yoga og meditasjon. Her kan jeg lade opp batteriene før den hektisk hverdag. Og best av alt så ligger det i båtavstand til Male så jeg kan bruke hele dagen på Cocoa Island når jeg har et sent fly hjem.
Wendie Pedersen
CO-FOUNDER & TRAVEL DESIGNER
Motta inspirasjon, priser, tilbud og andre gode råd direkte på e-post.
FØLG MED PÅ INSTAGRAM
Enestående opplevelser er enda bedre når de deles med andre. Post dine reiseopplevelser med Makai på Instagram @makaitravels med hashtagget #makaitravels
KONTAKT MAKAI TRAVELS
Hvis du har spørsmål angående din reise eller du ikke finner det du leter etter, så er vi alltid klar til å hjelpe deg. Hver eneste dag - hele året.
Send beskjed